JOIN, RENEW OR DONATE BY CREDIT CARD OR PAYPAL
JOIN, RENEW OR DONATE BY CREDIT CARD OR PAYPAL
OR
REGISTER FOR 2017 HOLIDAY EVENT AT BOTTOM OF PAGE!
(If you encounter any problems or issues with PayPal,
contact Webmaster, Russ Chappell at (928) 778-6502)

If you are enrolling for the first time, after completing your PayPal/Credit Card transaction, consider downloading and submitting the PAC Membership Form. This information helps us serve you better and determine what areas of Astronomy we can best address for your enjoyment and benefit.
When completed either email a scanned copy to contact@nullprescottastronomyclub.org,
drop it off at a meeting, or mail it to our treasurer, Stephen Eubanks.
To remove an item from your shopping cart, click on the red circle to the right of the item.
PAC Membership (Annual)
Single ($25.00)
Family ($35.00)
Junior ($15.00)

Tax-free Donation to Prescott Astronomy Club

PRESCOTT ASTRONOMY CLUB
2017 HOLIDAY DINNER AND AWARDS CELEBRATION
DECEMBER 13, 2017 – 6:00 PM

We will be holding our Holiday Dinner and Awards Celebration at the Gurley Street Grill this year, on December 13th, starting at 6:00 PM in the downstairs patio area.  Good parking at City Parking Garage or Chase Bank parking lot.

Total cost is $27.00 which covers thr buffet dinner, dessert, tip and tax.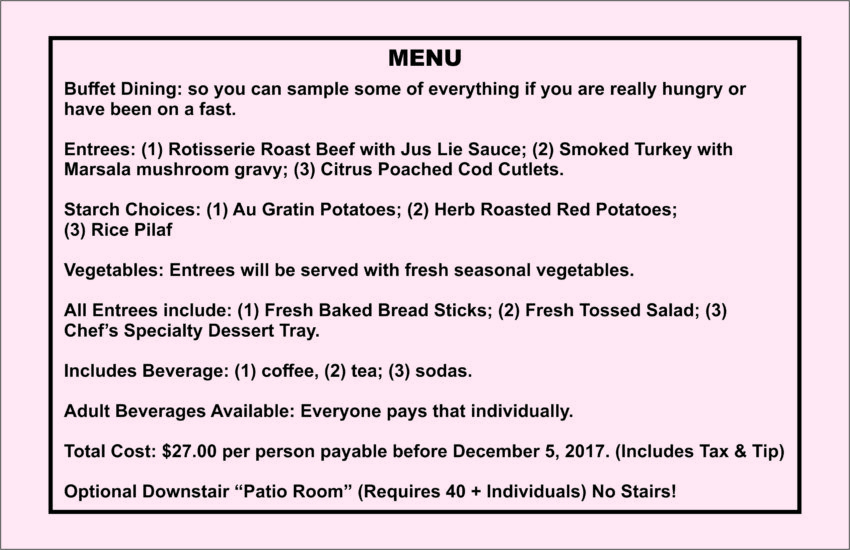 You must register in advance so we can provide a seating count to the restaurant.
To reserve your seat, you may pay below on our website, or mail your payment, along with the downloadable form located at PAS HOLIDAY DINNER REGISTRATION FORM to:
Prescott Astronomy Club
736 Peppermint Way
Prescott, Arizona  86305.
RESERVE YOUR SEAT AT THE TABLE ON-LINE
$27.00 Per Individual

$27.00 per individual, includes buffet, dessert, coffee, tea or sodas, tip and tax. Drinks and Add-ons are extra