Events
MEETINGS AND EVENTS

GENERAL INFORMATION

In 2016, the Prescott Astronomy Club (PAC) will host numerous meetings, star talks (lectures), star parties and other social and educational events at several locations in Arizona. All PAC events are listed below, in chronological order, and current information or changes will be posted daily… so check this webpage events approaches.
GENERAL MEETINGS
General Monthly Meetings begin at 6:30 PM, the first Wednesday of each month, and are held at Embry-Riddle Aeronautical University as indicated below:
Embry-Riddle Aeronautical University
Building #74, Lecture Room #107
(Top of hill at southwest end of Haas Boulevard)
3700 Willow Creek Road
Prescott, AZ 86301-3720
MAP
THIRD THURSDAY STAR TALKS (LECTURES)

Third Thursday Star Talks (lectures) begin at 6:00 PM, the third Thursday of the month at the downtown Prescott Public Library as indicated below:
Prescott Public Library
Founders Suite A & B
215 East Goodwin Street
Prescott, AZ 86301
MAP
STARRY NIGHTS & SUNNY DAYS
PRIVATE, PUBLIC AND PUBLIC-REQUESTED EVENTS

View the night sky and the Sun through a variety of telescopes and binoculars; bring your own or use Club members'. Knowledgeable Prescott Astronomy Club members will have available their personal telescopes, a Club telescope, or binoculars for the public to view interesting objects in the night sky.
Starry Nights is sponsored by the Prescott Astronomy Club in cooperation with the Prescott Department of Parks and Recreation, the Prescott Valley Department of Parks and Recreation, and the Highlands Center for Natural History.
Private, Public, and special Public-requested events (star parties & presentations) are held at various locations around the state which is noted in their announcement below.
For MAPS of regularly scheduled PAC events click HERE.

Review or download the PAC, Starry Nights Brochure for our 2017 Schedule
View Reports from past Third Thursday Star Talk Lectures
CHRONOLOGICAL SUMMARY OF EVENTS

DATE: December 13, 2017, 6:00 PM – 8:00 PM
EVENT AND LOCATION: Annual Holiday Dinner and Volunteer Recognition Ceremony at Gurley Street Grill
CONTACT: Russ Chappell
COMMENTS:  This year's Holiday event will be at the Gurley Street Grill, 230 Gurley Street, Downtown Prescott.

The meal will be buffet style featuring the following selections: (Vegitarian dishes will be available upon request)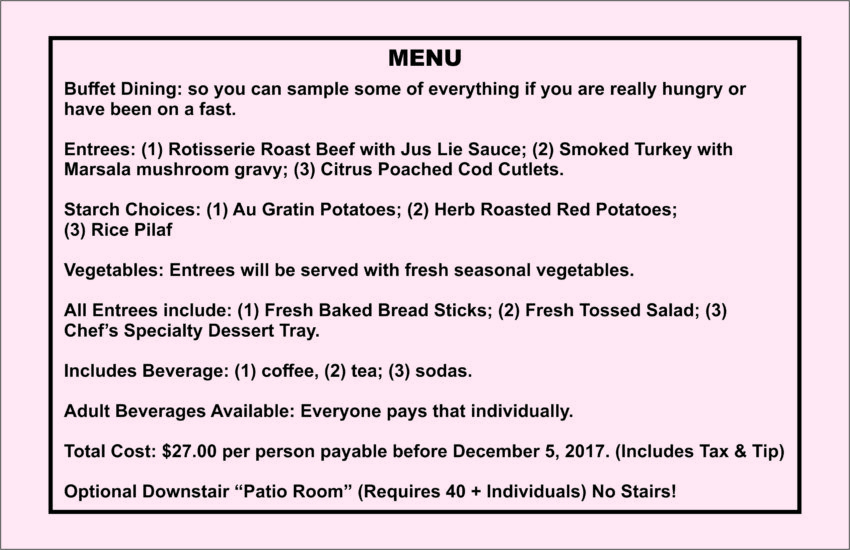 The restaurant has reserved the downstairs "Patio Room" for our event.
PAC Treasurer, Steve Eubanks is handling registration and payment by mail or at events, or you can register and pay on-line at: http://prescottastronomyclub.org/join/to-join-renew-or-donate-by-credit-card-or-paypal.
Fulton W. Wright will be hosting  PAC's first Volunteer Recognition event which will include several very special awards for some very special folks, so you do not want to miss this event!
If you have questions give Russ Chappell a call at (928) 778-6502 or (928) 848-1513 or drop him an email at sheepdog@nullcableone.net.
DATE AND TIME: Wednesday, December 20, 2017, 6:00 PM – 7:30 PM
EVENT: December Board Meeting
LOCATION: Prescott Public Library, Elsea Conference Room
COMMENTS: This meeting will be primarily an orientation for incoming (2018) board members as well as an opportunity to discuss plans and field ideas for the coming year.