Classifieds
CLASSIFIED ADS
PAC's free advertising page has been established to provide information regarding telescopes and astronomy related items available for purchase.
If you have an item for sale contact PAC at:
ad@nullprescottastronomyclub.org or (928) 778-6502
Provide as much information as possible regarding the make, model, size, age, condition, price you are asking, etc., for the items, along with your name, phone number and/or email address where you may be contacted for information.
When item sells, please contact us so we can remove it from the list.
Items removed 90 days after posting unless request to continue has been received.
POSTED January 5, 2018
For Complete Information Click HERE
POSTED October 3, 2017
Click HERE To Contact Michael By Email
Continue your page here…
POSTED July 22, 2017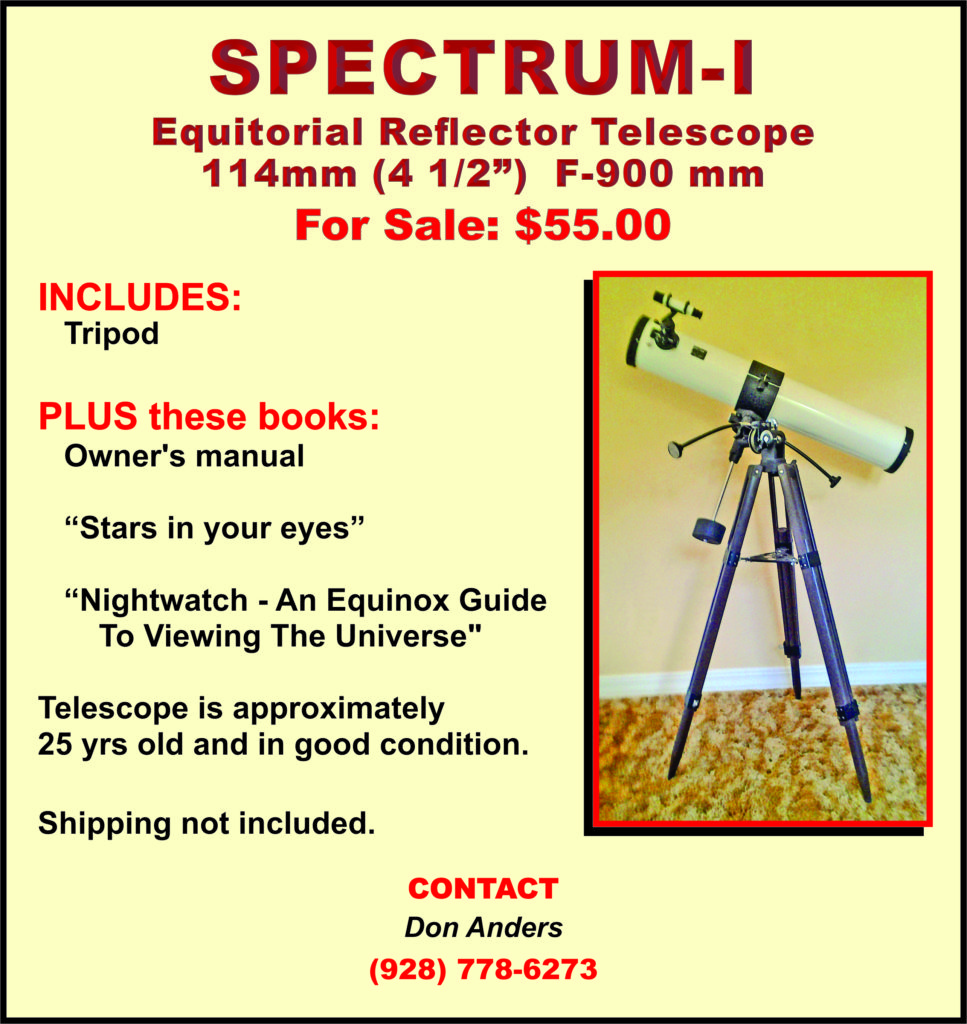 Click HERE to contact Don by email
POSTED MAY 1, 2017
FOR SALE – Asking $650.00

CELESTRON C-8
Schmidt-Cassegrain 8″ Astronomical Telescope

offered by
Wayne Crable

Click HERE for photos and item description.
Email: wscrab46@nullgmail.com
Phone: (304) 280-3114
POSTED FEBRUARY 20, 2017
FOR SALE – $150.00
Celestron Wedge
offered by
Prescott Astronomy Club

Click HERE for photos and item description.
Email: pbirck@nullcableone.net
Phone: (928) 778-6324
FOR SALE – $150.00

POSTED FEBRUARY 20, 2017
FOR SALE
$1,700.00 – MC Universe, T-mount 0.5x thread-on focal reducer, thread on spacer, T-mount to 2″ adapter, 12v DC power supply, 5 meter USB cable.
See details here: http://www.mallincam.net/universe.html
In excellent condition.
Includes shipping to Continental USA.
Contact: John Carter, jrcpvaz@nullgmail.com